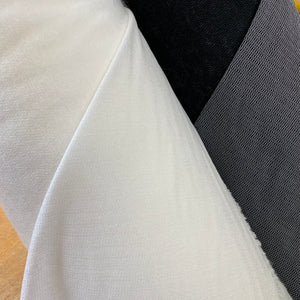 Price:  $4.00 per 25cm = $16.00 per metre
We sell interfacing in 25cm increments.  If you wish to buy 1m of fabric, then select 4 in the quantity box.  Your fabric will be sent in one piece.
Content:  80% Viscose & 20% Polyester
Fabric width:  150cm
Weight:  100gsm
Opacity:  Semi Opaque

This medium-weight fusible interfacing is perfect for adding structure to jackets, collars and waistbands.  It's a great interfacing for block fusing and is available in black and natural.
*** All care has been taken to represent colours & textures as accurately as possible.  Actual colours may vary slightly from those displaying on your screen.  If colour matching is important, please request a sample. ***