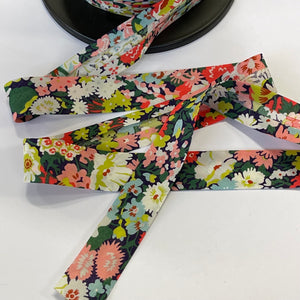 Price:  $1.00 per 25cm = $4.00 per metre
We sell bias binding in 25cm increments.  If you wish to buy 1m of binding, then select 4 in the quantity box.  Your bias binding will be sent in one piece.
Product:  Single-Fold Bias Binding
Content:  100% Cotton (Liberty Tana Lawn)
Width:  20mm

Our custom-made Liberty Tana Lawn 20mm Single-Fold Bias Binding (as pictured) is sure to delight.  It is perfect for binding seams, finishing necklines, creating button loops or being used as a drawstring.
In the sample garment shown, the bias binding has been opened out and trimmed by (7mm) before being applied.