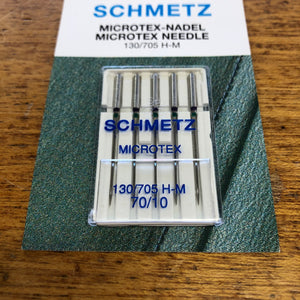 The Schmetz Microtex (sharp) needle has a very slim and acute point.  It was designed to be used with micro fibers, polyester, silk, foils, artificial leather & coated materials. The thin acute point creates beautiful top stitching and perfectly straight stitches.  These needles are also used for quilt piecing when precision is paramount. 

We stock two sizes 60/8 & 70/10.  The first number is the diameter of the needle shaft in millimetres.  In simple terms, the finer the fabric, the smaller the needle size.

This listing is for a packet of five 70/10 Microtex sewing machine needles.