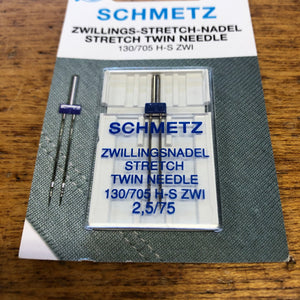 The Schmetz Stretch Twin Needle is two needles mounted on one shaft used to create two rows of stitches simultaneously.  They are most commonly used to hem knit/jersey/stretch fabrics.

We stock two sizes 2.5/75 & 4/75.  The first number is the distance, in millimetres, between the two needles.

This listing is for a single 2.5/75 Stretch Twin Needle.