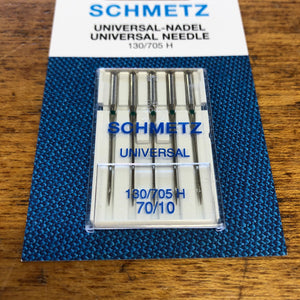 The Schmetz Universal needle has a slightly rounded point and therefore, as the name suggests, is a general purpose domestic sewing machine needle.  It can be used on both wovens and knits, but we recommend using a stretch needle for knits. 
We stock three sizes 70/10, 80/12 & 90/14.  The first number is the diameter of the needle shaft in millimetres.  In simple terms, the finer the fabric, the smaller the needle size.

This listing is for a packet of five 70/10 Universal sewing machine needles.