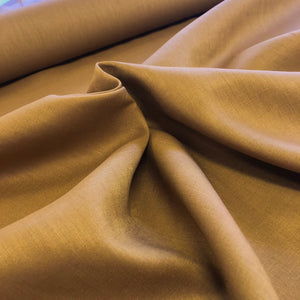 Price:  $9.50 per 25cm = $38.00 per metre
We sell fabric in 25cm increments.  If you wish to buy 1m of fabric, then select 4 in the quantity box.  Your fabric will be sent in one piece.
Content:  100% Linen
Fabric width: 135cm
Opacity:  Opaque 
We have a preference for offering ranges of plain linens in a variety of colours, but sometimes fabulous colours, or basics colours sold out in other ranges, means that we have sourced one-off rolls from different suppliers.  Be assured, the quality won't be compromised.  We're grouping these fabrics into our 'Sundry Luxe Linen Collection'.  Please keep an eye out on the details above, like fabric width, as they may vary.
 *** All care has been taken to represent colours & textures as accurately as possible.  Actual colours may vary slightly from those displaying on your screen.  If colour matching is important, please request a sample.  If a sample garment is shown, and the colours differs slightly to the fabric image, please deem the fabric image to be accurate. ***