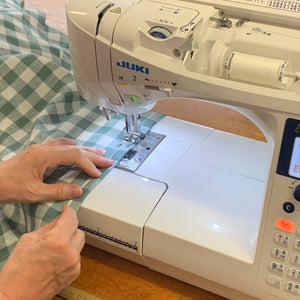 These three hour 'bring your own project' workshops run from 10:00am - 1:00pm and are taught by our in house teachers.

Please bring your sewing machine, the manual associated with your machine and any accessories that you might need (ie. a zipper foot, empty bobbins etc).  Don't forget the cord or the foot peddle!  Overlockers are available for students to use in the classroom.

You'll also need to bring your sewing kit (fabric scissors, measuring tape, pins, thread snips etc.) and your project.  Feel free to pop into the shop and ask for project advice prior to your workshop. 
Please read the 'fine print' below before purchasing.  If you have any questions about these workshops, please call the shop on (03) 9499 8118 rather than emailing.


Logistics:
* Please arrive at least 10mins before class
* Parking is available on site
* Tea and coffee provided

The Fine Print:

* Classes are to be paid in full at the time of booking
* If you are purchasing as a gift, please let us know in the notes field during checkout the name & phone number of the attendee.
* All classes remain the property of The Cloth Shop and can not be traded or on-sold without consent.
* Unfortunately our classes are non-refundable.  If you are able to give us more than a weeks notice, and we are able to resell your spot, we may be able to place you into another class.  This is not guaranteed, but we'll try our best.
* If The Cloth Shop cancels the class you can transfer to a new date, be issued a gift card to the value of the class, or be given a full refund.