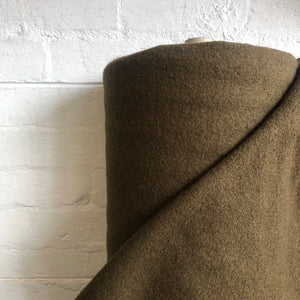 Price:  $17.25 per 25cm = $69.00 per metre
We sell fabric in 25cm increments.  If you wish to buy 1m of fabric, then select 4 in the quantity box.  Your fabric will be sent in one piece.
Content:  100% Boiled Wool
Weight:  300gsm
Fabric width:  138cm
Opacity:  Opaque

Boiled wool is a favourite of both ours and yours... and we are particularly excited to have this Australian range.  Boiled wool is suited to layering and/or outwear garments like cardigans, jackets, coats, coatigans, shrugs or vests. 

One of the great features of boiled wool is that it doesn't fray, so you can leave your seam allowances and hems unfinished and/or use the raw edge as a feature (ie. patch pockets).  Please note, this boiled wool is double sided, so suitable for a garment where the wrong side of the fabric is seen.
We recommend dry cleaning, but If washing at home, please allow for up to 10% shrinkage. 
*** All care has been taken to represent colours & textures as accurately as possible.  Actual colours may vary slightly from those displaying on your screen.  If colour matching is important, please request a sample.  If a sample garment is shown, and the colours differs slightly to the fabric image, please deem the fabric image to be accurate. ***